After entering the bridge club press the Cog Wheel to see more Chat options.
Various options - press the blue :
Do Not Show Adverts if you don't want to see the player advertisements
Show Adverts for Current Room only Shows Player Adverts for the Room you are in.
Show Personal and Server Chat - you'll see personal and server messages only
Pause incoming chat - to delay the incoming chat so you can read what is and recently was on screen
Increase incoming chat Size - increase or decrease the incoming chat size
Using your Standard Messages:
Press: Messages symbol
and your Standard Chat Messages appear.
Press the message you want to send and this message will appear in the chat bar -- ready to send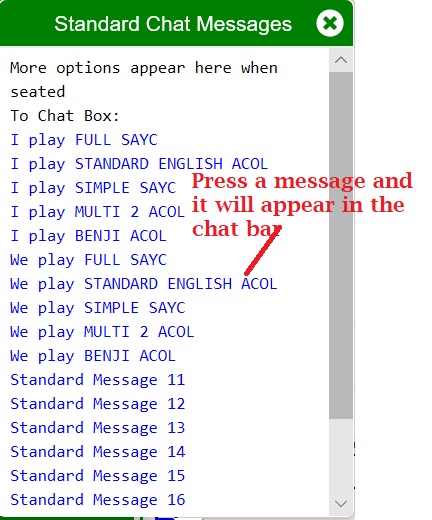 You selected the wrong message? Press the X at the end of the message to delete.
More about Chat --> press H E R E